Veg Tandoori Momos Recipe | Vegetarian Tandoori Momos
Tandoori Momos Recipe is a road feature in North and North East India. These Tandoori Momos Recipe do not require any consistency as they are full of flavor and are a complete snack in themselves. Tandoori Momos Recipe, a delicious amazing recipe for treating your family members.
These vegetarian tandoori momos are dumplings filled with vegetable and cheese. Gather each one in the Tandoori Marinade and cook under intense heat for the heavenly charcoal smokeiness we all know and love.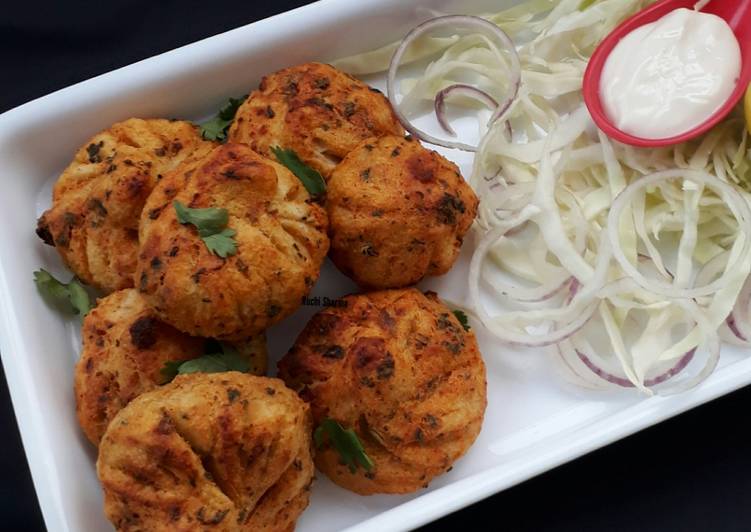 My Tandoori Momos Recipe passion
Every year, ask me what I want for my birthday and you will get the same response every time. It is not an expensive pair of shoes and is not a perfume, it is definitely not a designer handbag or clothes. I really don't care about those things. What I really want is my own Tandoor.
FOR MOMOS WRAPPING:-

1 Cup All Purpose Flour

1/4 Tsp Salt

1 Tsp Oil

1/2 Cup Water

FOR STUFFING:-

2 Tsp Oil

1 tbsp Garlic cloves finely chopped

1/2 cup Onion finely chopped

2 cups Cabbage grated

1 Cup Carrot grated

1 tsp Black Pepper powder

1/2 Tsp Salt

1 Tbsp Coriander finely chopped

FOR TANDOORI MARINATION:-

1/4 cup Thick Curd

1/2 Tsp Ginger garlic paste

1/2 Tsp Black Pepper

1 Tsp Red Chilli powder

1/2 Tsp Coriander powder

1/2 Tsp Cumin powder

1/2 Tsp Chaat Masala

1 Tbsp Besan

to taste Salt
Steps
In a large mixing bowl take all purpose flour,salt,oil and mix everything well.

Add water to dry mixture and start kneading dough,make a smooth and soft dough and rest it for 30 minutes on kitchen counter.

Heat oil in a pan,add garlic cloves and stir for a while.

Now add onions and saute until it turns translucent.

Add cabbage,carrot,salt and black pepper.Mix well

Cover and cook until soft and done.

Momos stuffing is ready.Allow to cool completely.

After 30 minutes, take the prepared momos dough and knead well again for a minute.

Take a grape-sized piece of dough and roll it out, 3 inches in diameter.

Take about 2 tsp cooled filling and place into the middle of the dough.

Use your fingers to pull the dough together and pleat one side to the other, using your fingers to seal.

Repeat this process for all the dumplings.

Heat a steamer and arrange the momos in the tray without touching each other.

Steam for about 8-10 minutes or until cooked.

Take them out of the steamer and allow them to cool.

In a large bowl take curd.

Add ginger garlic paste,chilli powder, coriander powder,cumin powder,chaat masala,salt,black pepper powder,Besan and oil.

Mix well making sure all the spices are combined well.

Place the cold momos in prepared marination and rest for 1 hour.

Preheat Tandoor at 200*c for 10 minutes.

Lined the baking tray with parchment paper and keep aside.

Arrange the marinated momos in the baking tray.

Place them in the Tandoor for 10 minutes or until charred in places.

Finally, serve tandoori momos sprinkled with chaat masala,dip of your choice.

Note:-You may add paneer to the stuffing.You can fry momos before marination.
But why Tandoori Momos Recipe?
The idea of ​​having a raging-hot pit of fiery coal in my kitchen makes me weak on my knees. Install a beautiful granite countertop and leave just enough room for a cavernous drop in a heat-proof cylinder.
Pop in a clay Tandoor and drive me crazy with the abundance of dishes.
What can you cook in Tandoor?
What can you not cook in the Tandoor? I offer homemade naan with fresh edges, chewy edges and chewy riddles, kebabs of all shapes and sizes, and the best cooked potato life!
Cook Also:
Matar Pulao Recipe
Tawa Pulao Recipe 230
Cook foxtail millet
Lentil and Charred Broccoli Chaat expert Recipe 360
11 Best Healthy Snacks Recipes
Recipe bran whole wheat muffins
Bread Pizza Recipe on Tawa Pan in 15 minute
Tomato Rice 10 min